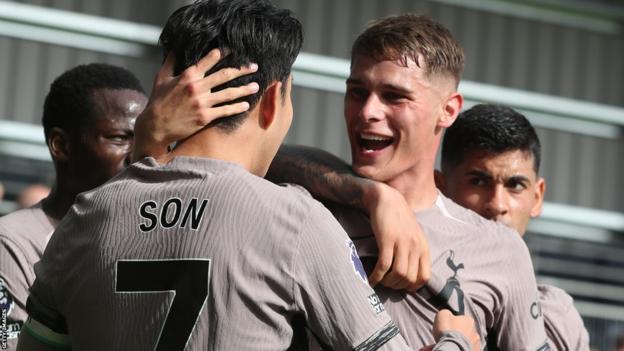 With eight games played, the Premier League table is finally beginning to take shape, but it doesn't tell the whole story about how teams have started.
While obviously results are what matter most, form is temporary in football, so taking a look at teams' expected goals numbers can help us see how much permanent class they've shown so far and get an idea of how the rest of their season could pan out.
Expected goals is a metric that measures the quality of the chances teams create and give up by calculating the likelihood that they will be scored, using information from similar shots in the past.
By comparing teams' actual goal difference with their expected one below, we can see whose foundations for the season are built on stone and whose are built only on sand.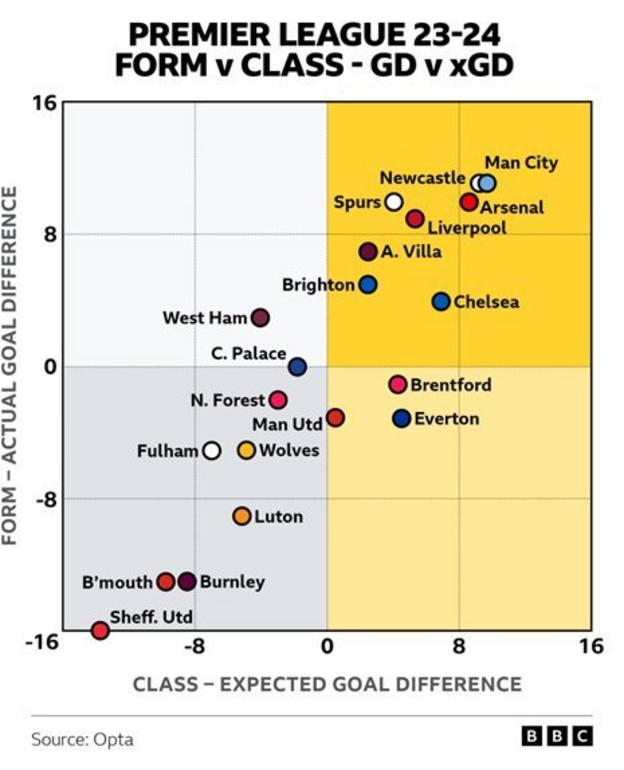 It's not surprising that Manchester City have been the best team in the Premier League so far, but what might raise a few eyebrows is that Newcastle and Arsenal are right up there with them.
While the Magpies' 8-0 win over Sheffield United obviously boosts their numbers, they've been the better side in the majority of their games this season.
Tottenham and Liverpool have also had strong starts, although they've not been as dominant and are enjoying a run of hot form early on.
There's room for improvement, but if Liverpool can avoid adding to their four red cards and Spurs can keep one of the league's best finishers in Son Heung-min fit, the season looks promising.
'Crisis clubs' Chelsea and Manchester United might be separated by just a point in mid-table and both bemoaning their luck in front of goal, but Mauricio Pochettino's side are actually playing well in terms of creating and restricting chances, whereas Erik Ten Hag's team are way off the pace of the other top sides.
Despite having just seven points on the board, managers Thomas Frank and Sean Dyche are justified in saying that Brentford and Everton have been better than results suggest, with a relieved Dyche mentioning on the most recent Match Of The Day that "at last the xG paid us back" in the Toffees' win against Bournemouth.
Early-season enthusiasm around West Ham might've been a bit premature, with the Hammers overperforming their expected goals more than any other side.
While they did pull off a masterclass against Brighton and won comfortably against Sheffield United, overall performances so far suggest a top-half finish at best.
At the bottom, Luton have not been quite as awful as people initially suggested, while Burnley, Bournemouth and Sheffield United deservedly make up the bottom three at the moment, with the situation looking particularly bleak for the Blades even in these early days.
The graphic below takes a more detailed look at teams' expected goals numbers by showing whether it's in attack or defence where teams have been impressing or struggling this season.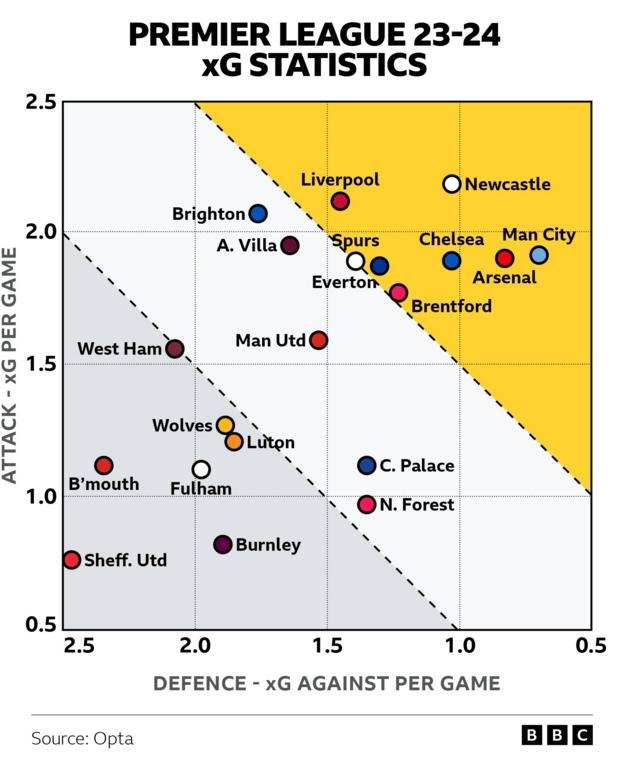 While Manchester City and Arsenal have been the best defensively, four sides have been better in attack so far, with the absence of Kevin de Bruyne and – perhaps surprisingly – Rodri hampering the champions.
However, Arsenal's attack is a bit more concerning as their numbers are boosted by taking a league-high five penalties in their eight games, so it's clear that the Gunners aren't firing on all cylinders just yet.
From Newcastle to Brentford, 10 teams have been strong going forward this season, but it's in defence where teams vary.
Tottenham and Liverpool have not been as solid at the back as other top-four contenders, while Aston Villa and Brighton's amazing attacking play is currently being undermined by defensive frailties.
Manchester United have been mid-table in both attack and defence, while we shouldn't be too surprised that the recent game between Crystal Palace and Nottingham Forest finished goalless, with both sides fairly solid at the back and timid going forward.
For the teams in the bottom three, Burnley primarily need to improve their attack and Bournemouth their defence if they're to stand a chance of staying up, while the Blades almost need to be re-forged entirely if they're to survive.
Finally, with only eight games played, it's important to take into account the difficulty of each team's opening fixtures.
By looking at where their opponents finished last season – with the promoted sides replacing the relegated ones – we get an even better understanding of how teams have started.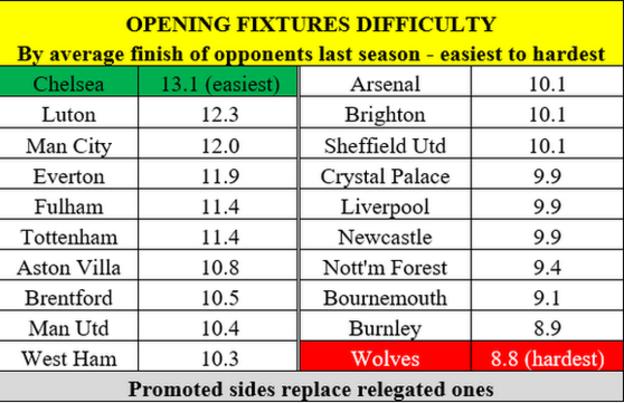 As mentioned before, Chelsea have been playing well this season despite not having the results to show for it, but they've also had the easiest run of fixtures, so it's hard to truly pin down how good they are this early on.
Everton are in a similarly bittersweet situation as while they can take heart from how they dominated a run of winnable home games, they'll be kicking themselves that they didn't manage to get more points on the board.
Although Luton are currently outside the bottom three, they've had one of the easiest set of opening fixtures, whereas both Burnley and Bournemouth below them have had two of the most difficult, suggesting things might improve for those two sides as their fixture lists become easier.
While they've not been great overall, Wolves haven't started too badly given the circumstances, as not only did Gary O'Neil take charge just before the season began, but they've also had the toughest run of games so far, facing five of last season's top seven in their opening eight games.